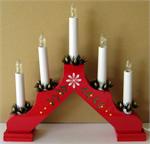 Creating the perfect atmosphere for the holidays can be as much fun as the celebrations themselves. One of the ways that people in Sweden traditionally create authentic ambiance is with candoliers. These triangular centerpieces have a long history as instantly recognizable Swedish Christmas décor, and adding one to your home lends a little extra warmth and cheer to any occasion.
In the past, they were made with wax candles and live greenery, but today's technology offers a distinct upgrade to the ease of creating a welcoming atmosphere. You can do just that by using an electric candolier. Crafted in the shape of the traditional piece, these contemporary products produce safe, instant light without messy clean-up or the need to replace melted candles.
If you want to embrace the seasonal spirit, there's no better way than with an eye-catching display that's emblematic of the cheer and history behind Swedish culture. The Nordic flair provided by the candolier blends perfectly with other Christmas decorations while also connecting your space with the unique craftsmanship and care that Sweden brings to one of its favorite occasions. Plus, a candolier's visual appeal offers a great conversation starter between friends, family, and visitors as you enjoy Christmas with the people you love.