The Christmas season is special for Scandinavians. It's been celebrated in the region for centuries, with many of the oldest traditions persisting even today. The snowy landscape itself looks like something from a Christmas card. Furthermore, the cultural emphasis on "hygge," or a sense of cozy togetherness, dovetails nicely with the holiday.
You too can bring Scandinavians charm to your Christmas by choosing the ideal gifts for your lo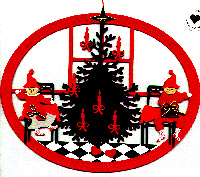 ved ones. With so many Scandinavian crafts and goods available to order online, it's easy to find the perfect present for everyone special in your life. We recommend the following décor and gifts to make your holiday memorable.
Seasonal Papercut Mobiles: Papercrafts are popular worldwide, including in Scandinavia. For a small gift that's sure to charm anyone, you can't go wrong with a seasonal papercut mobile.
3D Paper Christmas Trees and Stars: Papercraft miniature trees and stars are great for beautifying any Christmas display. They are also great for brightening up table settings.
Cookbooks: The chefs and bakers in your circle will enjoy trying out authentic Scandinavian recipes. Also, if you cook as well, you're sure to find the perfect recipe for Christmas dinner in these cookbooks.
Straw Yule Goat: As a traditional Christmas display, straw Yule goats can be found in homes and businesses across Sweden during the holiday season. Add one to your own home or gift it to a friend.
Our products make perfect gifts and can brighten up your home as well. Make the Christmas season special with authentic Scandinavian crafts and goods.